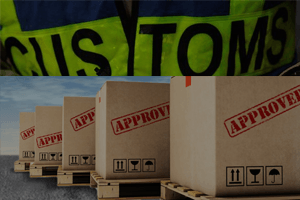 We have our own Customs Licensed and having 3 decades of experience in the field of Logistics. We have experts with through knowledge of Tariff Classification, Notification, Customs Act, Customs Rules and Regulation. We handle both export and import of any products.
The comprehensive customs brokerage, clearance and compliance services combine in-depth expertise in customs regulations with local knowledge-ensuring the smooth and expeditious flow of international shipments to India.
The services include:
Import customs Clearance i.e. HSN classification, rate of duty, preparation of bills of entry, processing the customs clearance, assessment, customs examination and obtaining customs out of charge and arranging dispatch, delivery to the destination.
Export customs clearance i.e. Preparation of shipping bill on the basis of shippers letter of instructions, classifications , receipt of goods, measurement, weighment as also marking, labeling processing customs clearance, customs examination and obtaining customs out of charge and handing over to international carriers.
Custom clearance of the Import / Export cargo.
Documentation for custom clearance.
Handling of stuffing and de-stuffing at Ports, ICD's and Customers warehouse
Examination of Shipments.
Port handling and arranging bonded warehouse as and when required by the client.
Suggestion for effective packing for economic handling and safety.
FREIGHT FORWARDING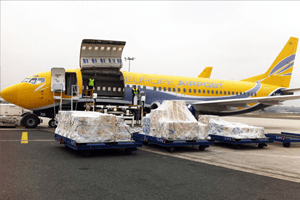 We Sripaaddam Logistics provide Sea, Air - import and export services. We serve port-port, port to door and door- door services. We offer many services like sea transportation, air transportation and road transportation . We also have proven experience in handling both air & sea inbound and outbound freight, which provides prompt customs clearance for importers and exporters.
AIR FREIGHT
We Sripaaddam Logistics provide expedited air freight services and international air freight to destinations around the world. Our airport-to-airport service is ideally suited to customers with a high volume of business requiring time-critical delivery. We do air freight services based on your needs and your schedule. We select the most appropriate carrier for your shipments.
Our serve from automobile components, electronic, garment, house hold articles and leather products name it and we handle all airfreight shipments in the most professional, reliable and expeditious means possible. We with our network of offices and agents throughout the world coordinate airfreight shipments worldwide for the most safe, timely, seamless and cost effective manner possible.
SEA FREIGHT
We Sripaaddam Logistics as an ocean transportation provider and ocean freight service we are in liaison with many ocean / shipping carriers making our customer to enjoy significant savings on costs. We are proud of our excellent reputation for handling time sensitive cargoes. We organize and manage sea freight shipments worldwide. We can ship FCL (full container load) or LCL (less than container load) shipments anywhere in the world - door to door.
Our services provide
Cost-effective usage of ocean container space.
best effective ocean freight
Full-container-load (FCL) Consolidation.
Less-than-container-load (LCL) Consolidation.
On-The-Spot / Factory Stuffing of Containers.
Dry or liquid bulk shipments
Insurance and packing option
Cargo tracking system
Communication facilities
TRANSPORTATION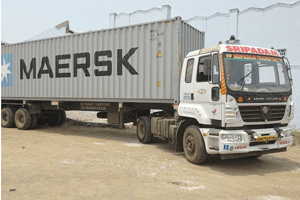 At "Sripaaddam Logistics" we offer single window services covering all aspects.
Fleet is an integral part of our organization. We have our own fleet of 40 Ft Double Axel and Triple Axel and 12 Wheeler Trucks of 21 M Tons Capacity, and we have also associated with reliable contractors who can supply all type of Trailers and Trucks at any point of time for any type of cargo. All these Trailers & Trucks will be monitored by our direct supervision which is our core policy and this ensures smooth operations and hassle free service to our customers.
We do transportation of normal dry containers, ODC containers, General cargo, Steel and break bulk cargo.
Along with movement of goods, We further work within your specific industry requirements to optimize efficiency and save you money; We support to our customers and help them to stay focused on their core activities.
The Challenge for "Sripaaddam Logistics" is to minimize costs, improve transport efficiencies; we offer safe transportation of the goods to all over India. By rendering dedicated and professional service, the organization has seen immense success in the field of Trailers & Trucks Transport service and stamped its name in Tamil Nadu and neighboring states of Andhra Pradesh, Karnataka.
We Offer:
Transportation sea Export / Imports Containers
Transportation of General / Steel cargo
Transportation of heavy and over dimensional consignment
What's more is that, Sripaaddam Logistics is also able to offer our customers extremely competitive freight rates across multiple locations.